Thinking about the most beautiful places in Italy and the unique places to visit in Italy?
Then this post is for you!
Italy never disappoints travelers – with its stunning picturesque landscapes and beautiful towns and countryside, it is one of the most popular destinations to visit. If you could visit only one country in Europe… I suggest, you should go to Italy. It has something to offer for every kind of traveler, whether you are a mountain lover, beach lover, road-trip lover, etc.
If you are planning your trip and looking for some unique places to visit in Italy then you will find some hidden gems as well as the main tourist places in the country.
Here, I'm going to explore some of the typical suspects and the hidden gems of Italy for you.
10 Most Beautiful Places in Italy
Cinque Terre
Comprises of five villages, Cinque Terre (meaning Five Lands) are spread across the coastal line of the Ligurian Riviera and are often considered as one of the best places to visit in Italy.
How to get to Cinque Terre?
The easiest way to get around in Cinque Terre is by train where stations are only 5 to 10 minutes away from each other. The most enjoyable one though is either on foot or by boat. Also, hiking paths interconnect villages with stunning views of the sea.
If you are coming from Pisa or La Spezia to Cinque Terre, the first village that you will come across is Riomaggiore. During your stay don't forget to visit the San Giovanni Battista Church, the castle, and the Sanctuary of Our Lady of Montenero.
The next village is Manarola – the small port and the church of Saint Lorenzo with the watchtower are important attractions to see in Manarola. From Manarola, you can reach Riomaggiore in just 20 minutes through a trail called Via dell Amore.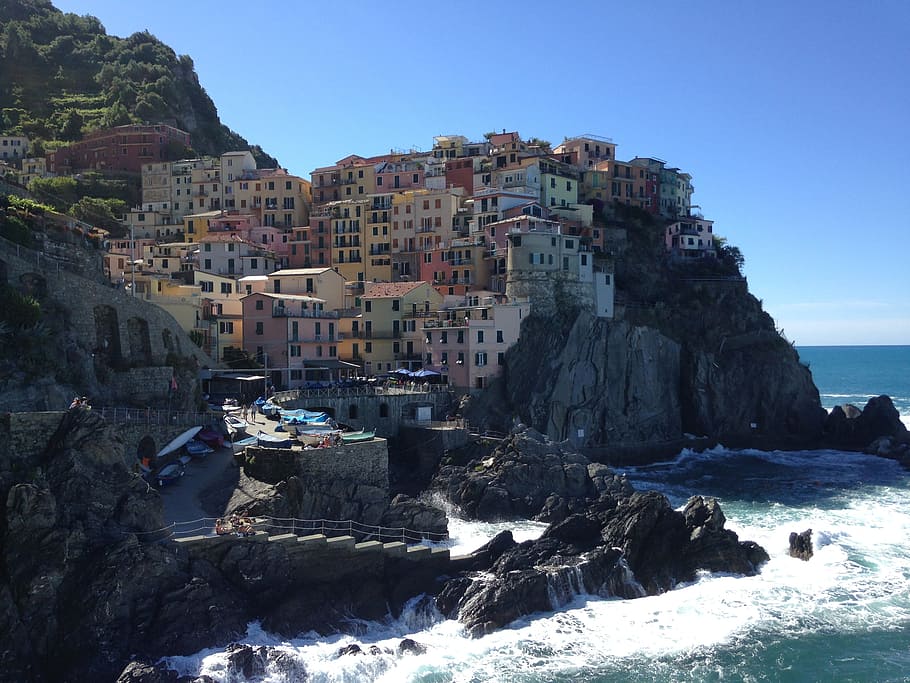 The next village is Corniglia with great views over the other villages and cobbled streets have the best gelato shop.
The next stop should be Vernazza – the most picturesque village of the Cinque Terre. It has a beautiful harbor and many contracted streets, where one of them will take you to the castle, which can admire magnificent views.
The last one and the largest village is Monterosso al Mare. It has a large seafront and a big sandy beach.
Your trip to the Cinque Terre is going to be a lifetime experience.
Amalfi Coast
If you are looking for a heaven on earth then come to Amalfi Coast. Listed as a UNESCO world heritage site, Amalfi Coast spread across the large areas under its territory.
Where is the Amalfi Coast located?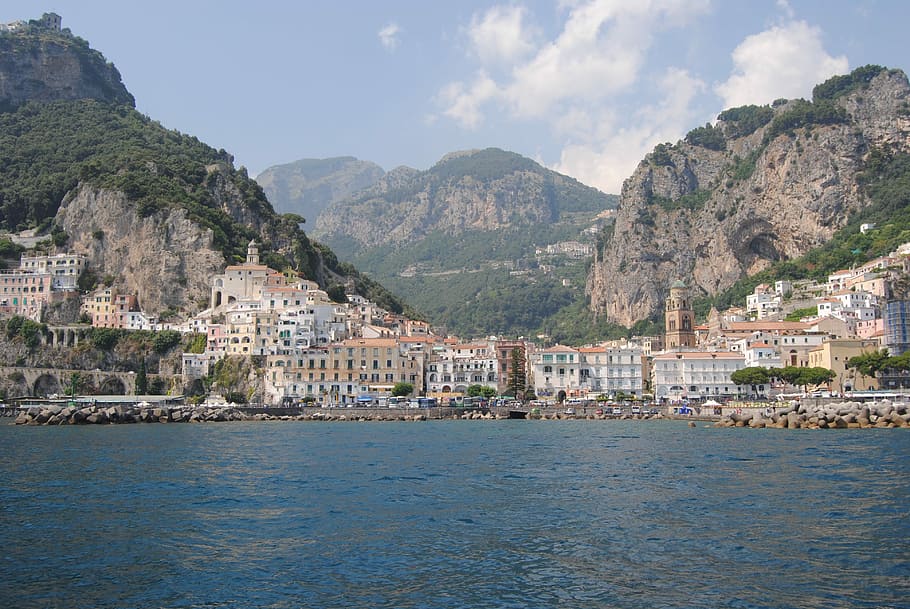 Situated in the southwestern part of Campania, Amalfi is one of the best attractions in Italy. Spreading across 50 km into the Sorrentine Peninsula, this place is studded with multiple colorful fishing villages and long stretches of scenic coastline.
There is a hillside village namely Positano which is situated on Amalfi Coast and is a famous tourist attraction in Italy. As many restaurants and villas/resorts are present there, you can spend your vacation wonderfully.
For trekkers, it's a real treat as it requires lots of challenges from your side to reach this majestic destination. Moreover, you can simply chill out at the beach while enjoying your favorite Italian cuisine. Undoubtedly, it is also part of the top 10 places to visit in Italy during your trip to Italy.
Capri
A day on the Amalfi Coast and a day trip to the island of Capri is enough to fall in love with this part of Italy. The gorgeous island of Capri has been fascinating visitors with its stunning vistas and ethereal grottos (caves) since the time of Roman Emperors – and almost two thousand or so years later, it's still just as captivating as it was earlier, and making it one of the must see places in Italy.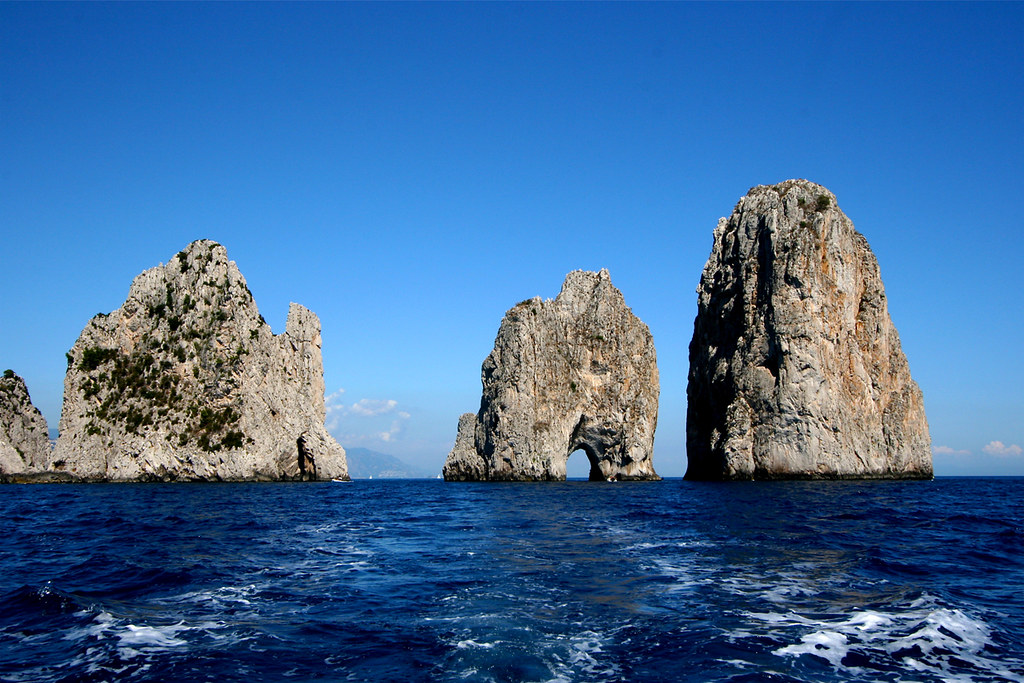 When visiting Capri, make sure to take a boat tour around the island, adore the views from the Garden of Augustus (don't miss a chance to get the view of Via Krupp looking down), and if you have got enough time, tour the magical Blue Grotto.
Ravenna
One of Italy's historic cities with 8 buildings inscribed on the UNESCO World Heritage list, Ravenna is a small town with lots of lovely streets and great food like piada (flatbread), selling from hole-in-the-wall shops.
The main reason to visit this city is the selection of fantastic mosaics – and once the capital of the Western Roman Empire – is one of the reasons why this city is so unique.
One of the best places to visit is the Mausoleum van Galla Placidia and just next to it is the Basilica San Vitale.
Part of the church is also covered in colorful mosaics, with depictions of scenes from the Bible and from life in the Byzantine period.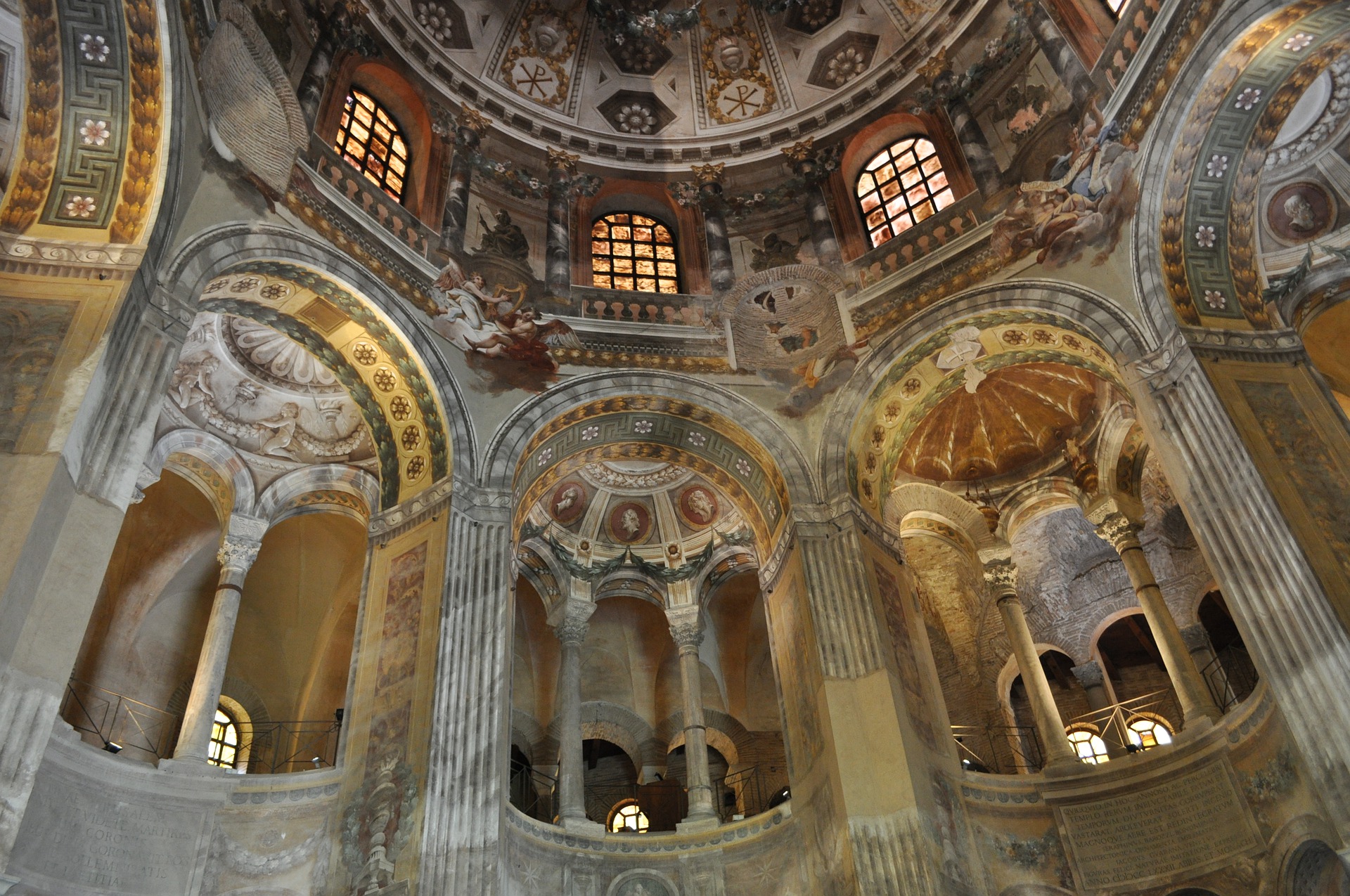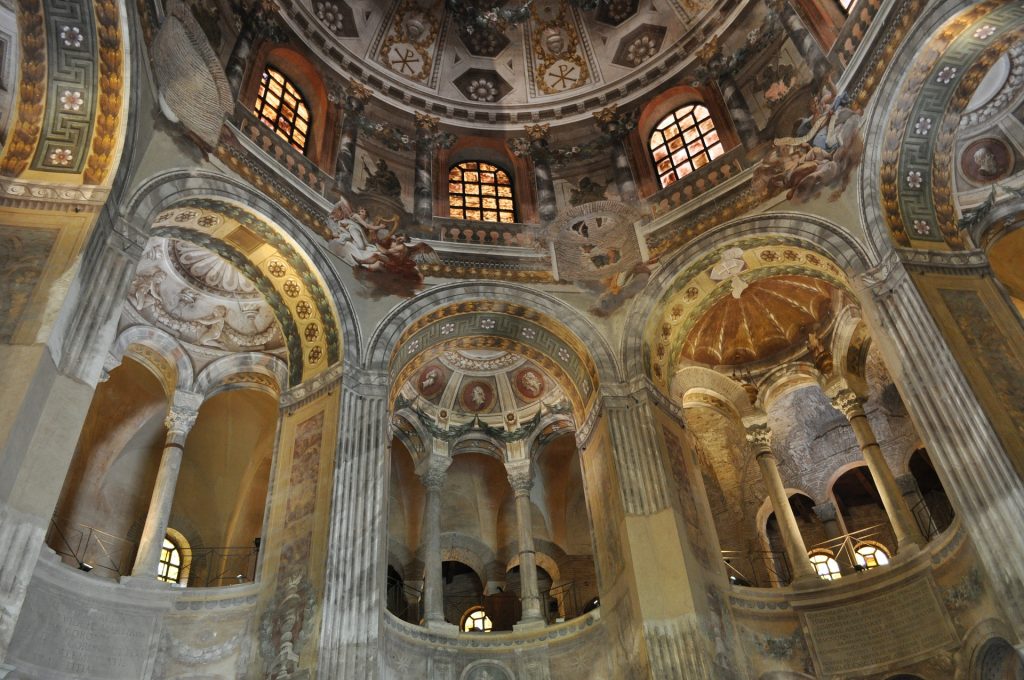 Ravenna is one of a kind, where you can just lay back and look around, and continue to find new intriguing details.
Bergamo
Forget about the city of Milan – the ideal attraction of the Lombardy region should be Bergamo, a town often ignored by travelers attracted by the name and fame of the region's capital city. Bergamo is considered one of the prettiest cities in Italy.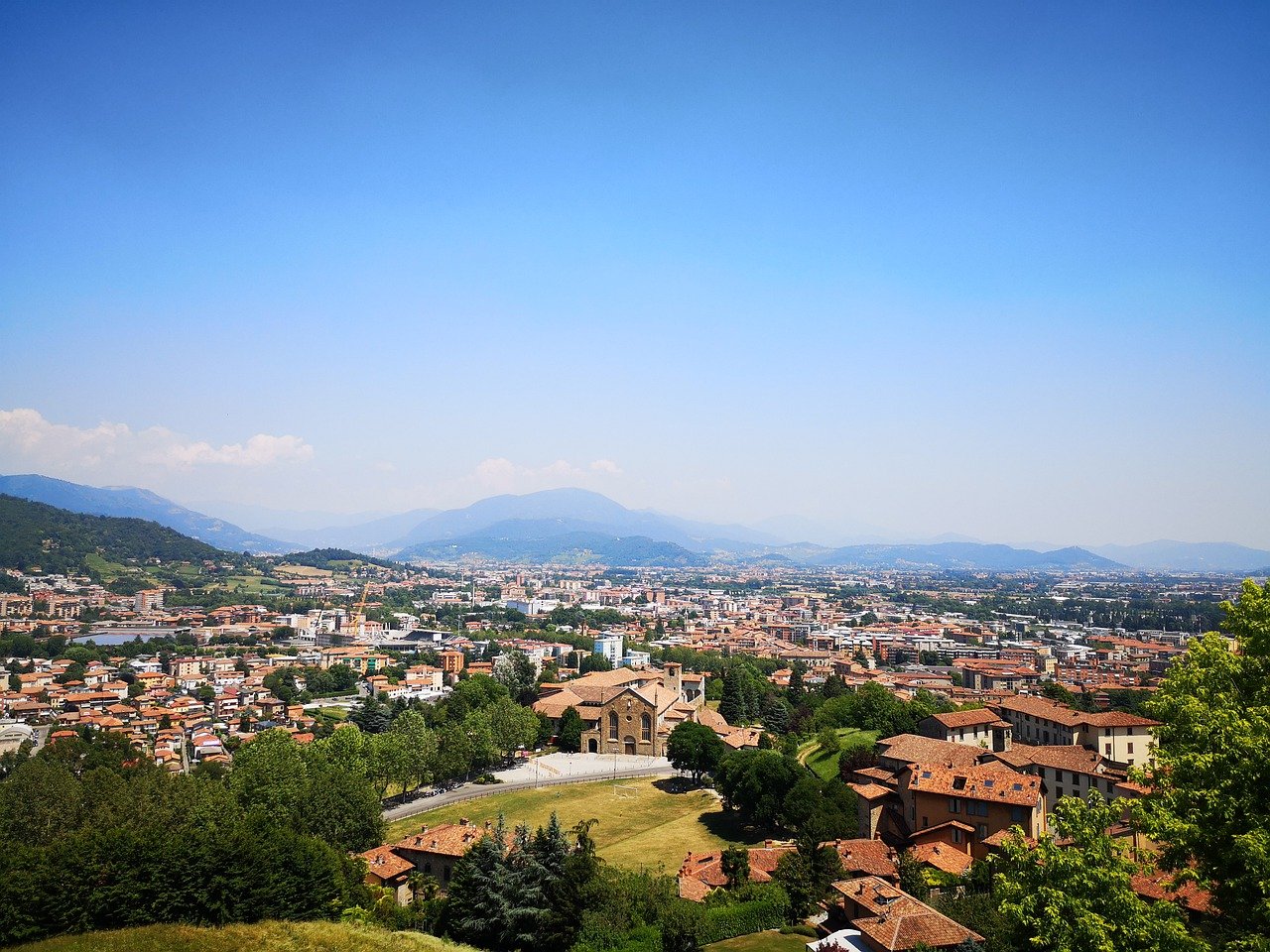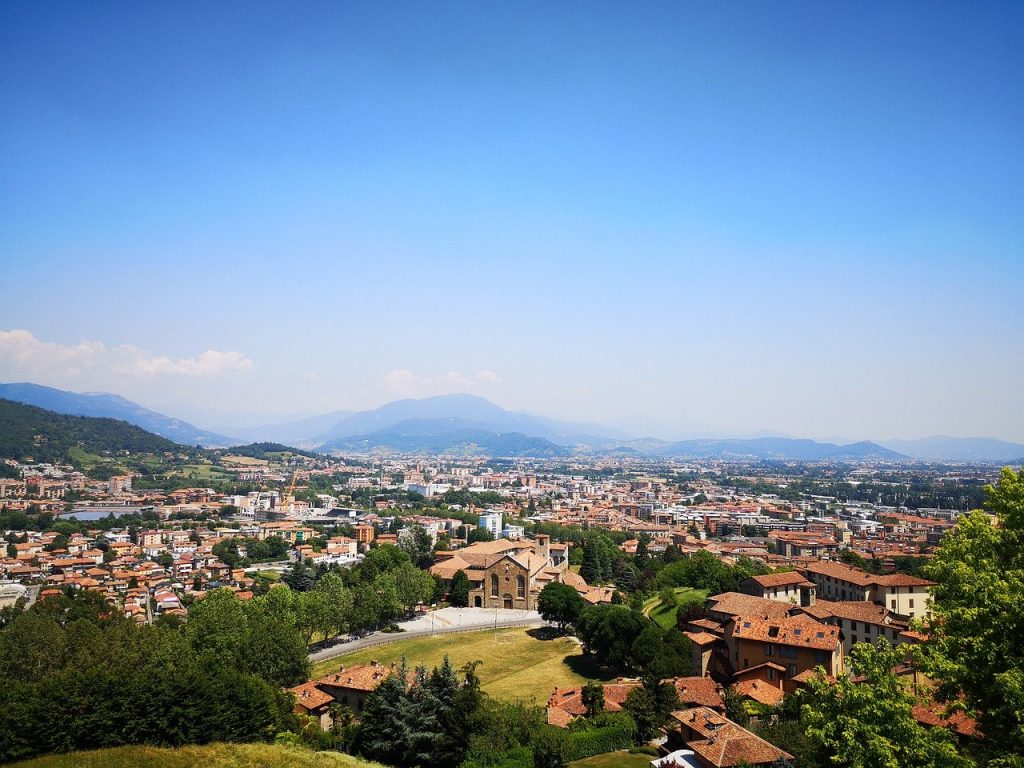 Città Alta (Upper Town) or Città Bassa (Lower Town) – both are stunning and beautiful. The romantic walled city of Bergamo is one of the most amazing cities in Italy, which is covered with cobblestone paths and old mansions.
Alberobello
With its distinct white-painted Trulli (dry stone hut with a conical roof), Alberobello is one of the most unique places to visit in Italy and Puglia's most famous inland sight.
The town of Alberobello and its Trulli are the major attraction that brings most visitors to this part of Italy. But you can also discover colorful coastal towns, national parks, and stunning coastal cliffs.
As Trulli are the biggest attraction of Alberobello, the most important thing to do in town is walk through the Rione Monti, where you can able to see the biggest cluster of them!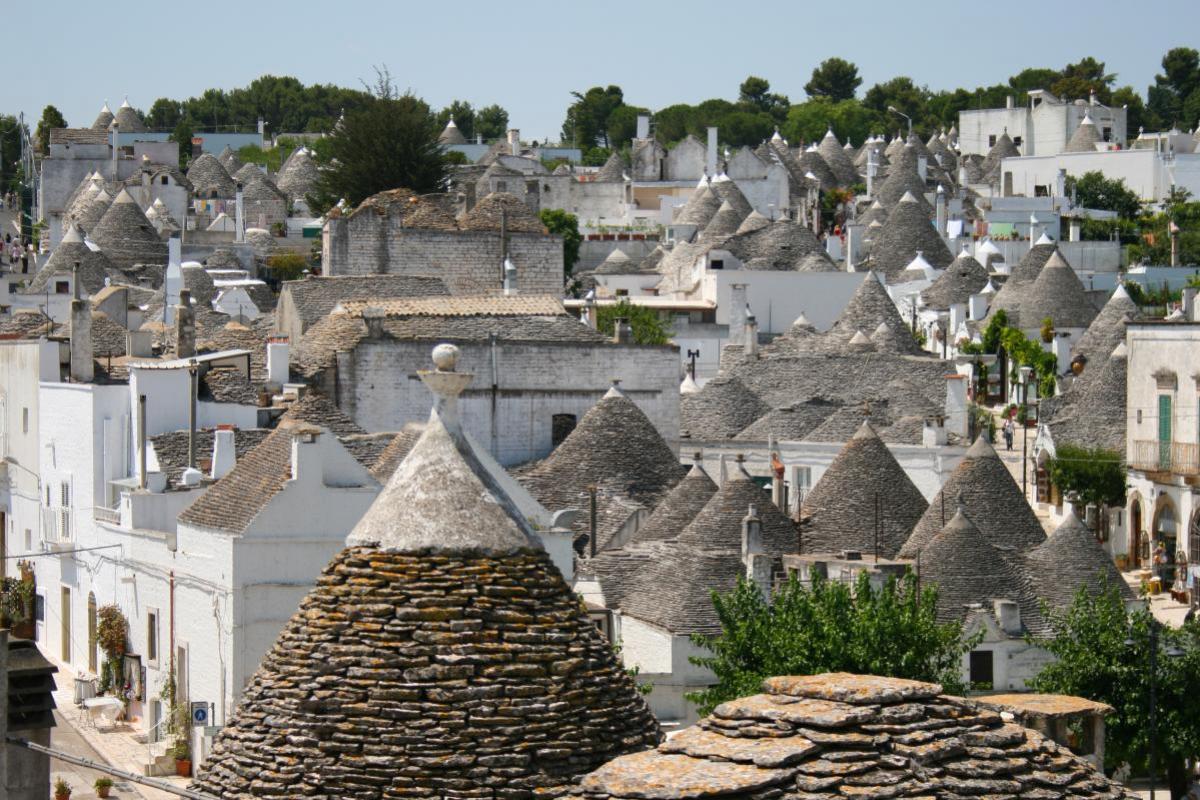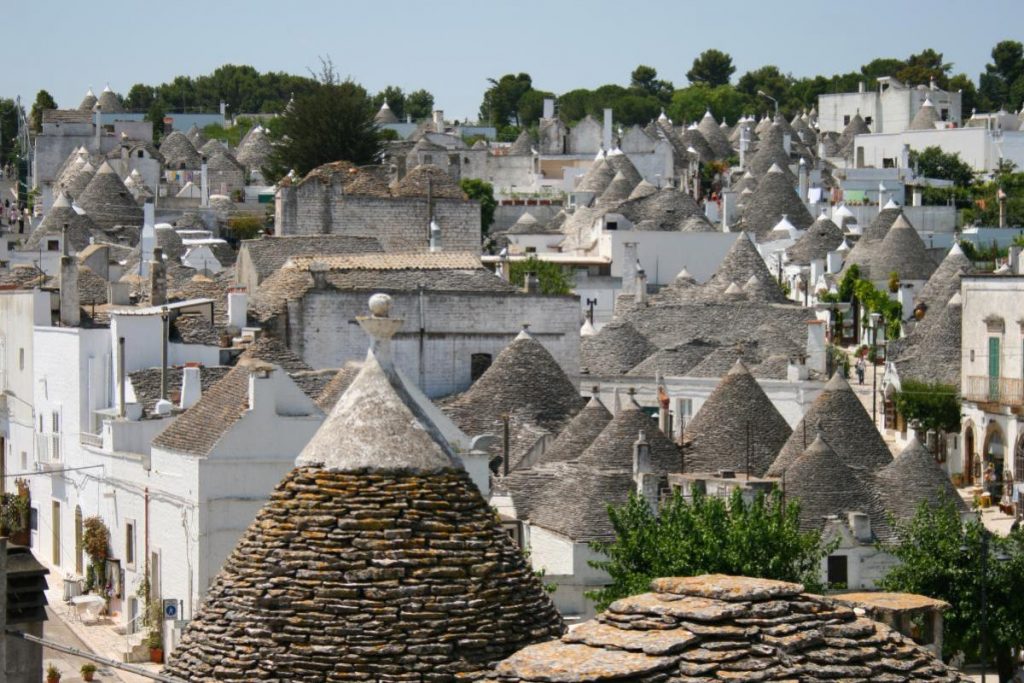 However, Aia Piccola, the quieter part of town, also has plenty of Trulli and is well worth a visit.
Lake Garda
Lake Garda is also considered as one of the best places to visit in Italy with family because it offers a wide range of attractions to fit all interests of both kids and parents!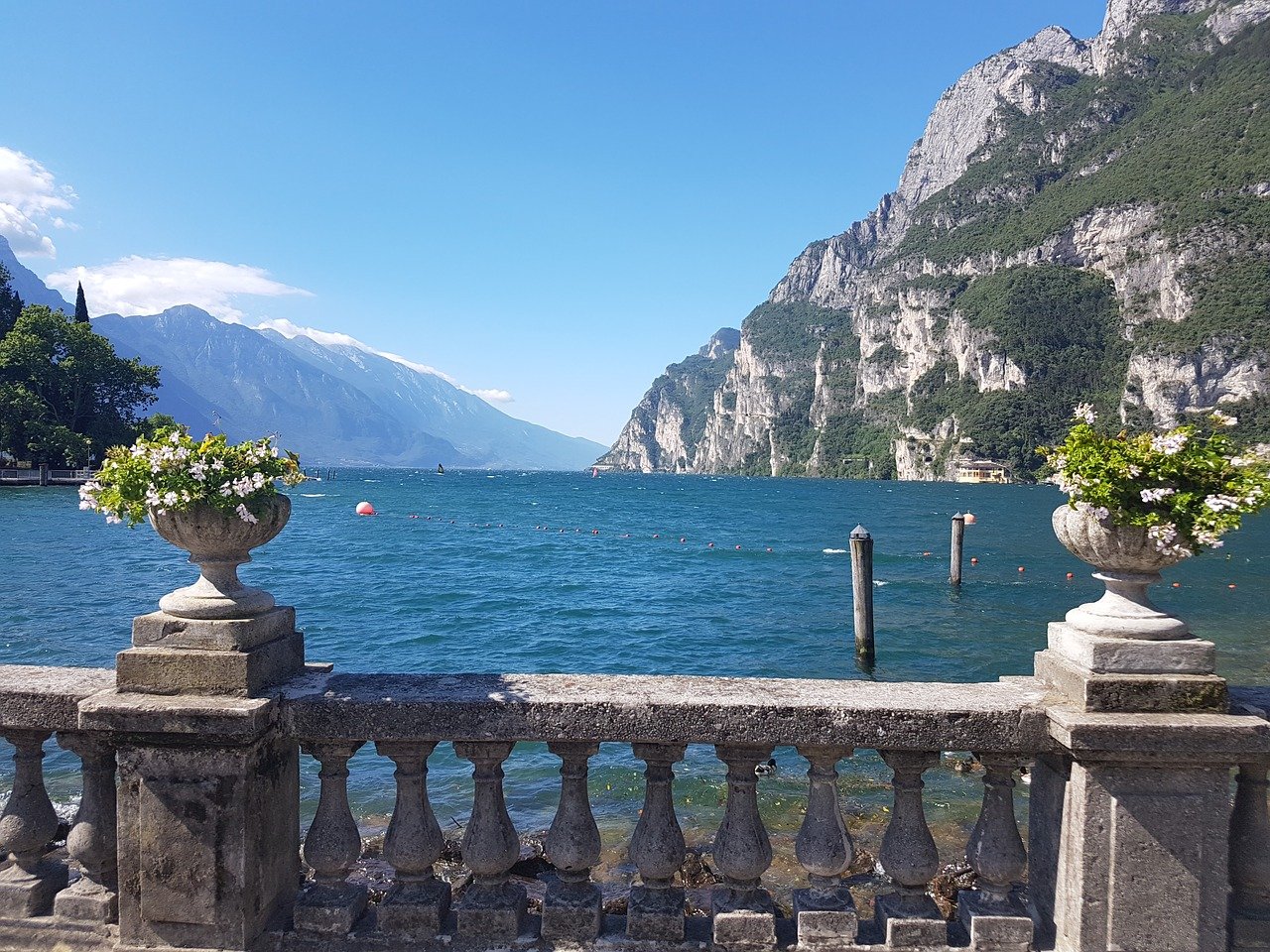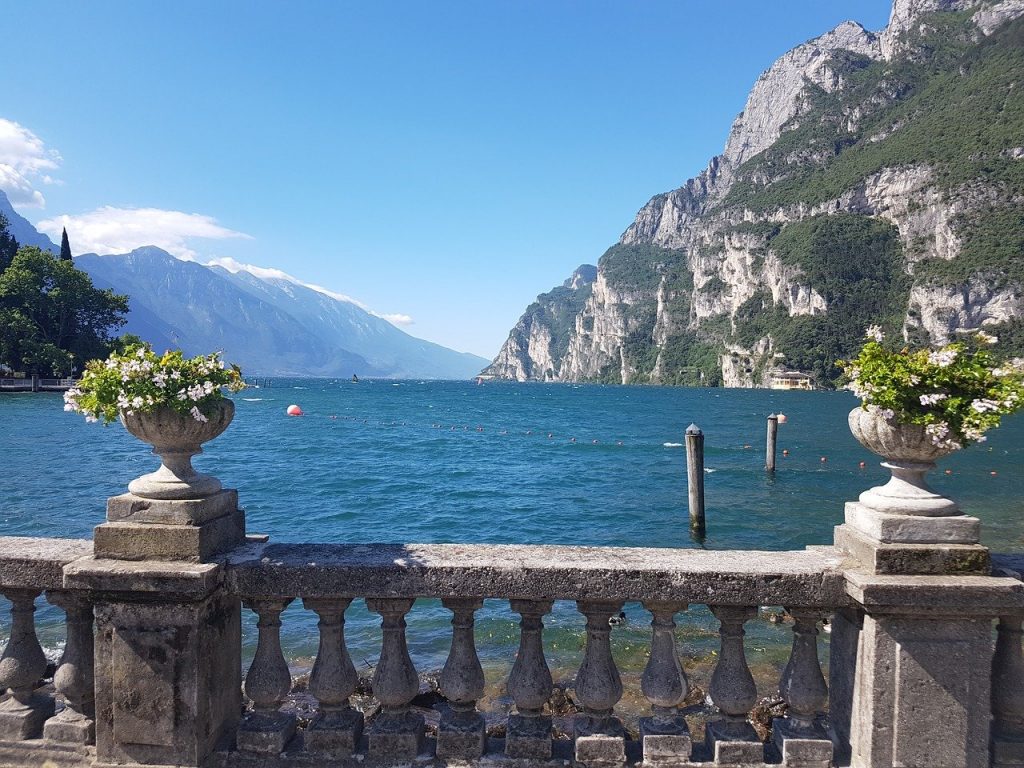 Milan could also be a great place to base your family for a holiday that involves a lot of day trips. Public transportation can help you to reach any of Italy's popular destinations such as Lake Garda, Verona, Pisa, Florence, and even Venice, which is great if you're trying to make a lot into a shorter holiday trip.
Lake Como
Located in the northern part of Italy, Lake Como is close to Milan and the Swiss border and offers many reasons to visit.
It is one of the best tourist places in Italy that brings several key highlights which you haven't seen before. Lake Como region is jam-packed with restaurants, hotels, and villas along the seashore to make your stay really comfortable.
Here you can also notice lots of speed boats and sailboats sailing through Lake Como's water which is an absolute delight to watch and even try – also the best place to chill out on a hot summer day.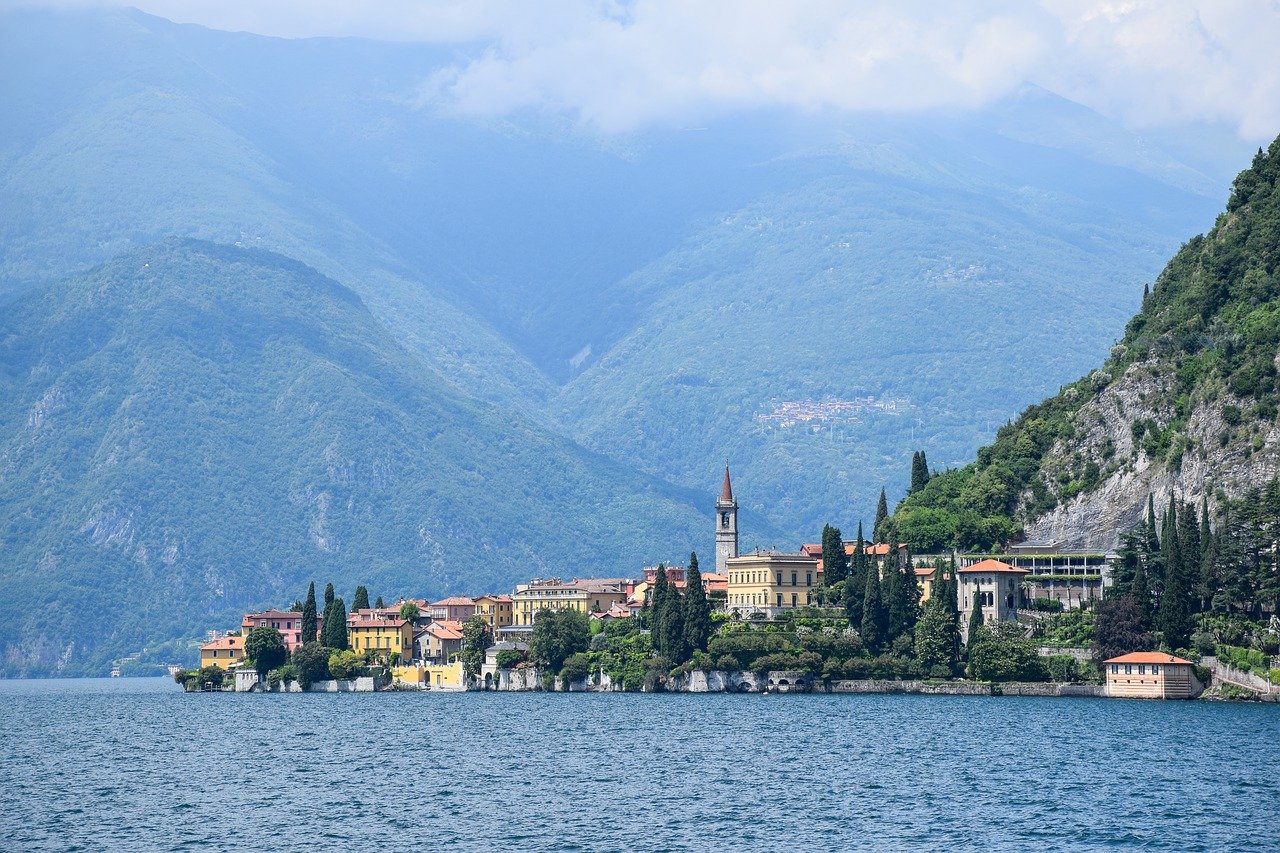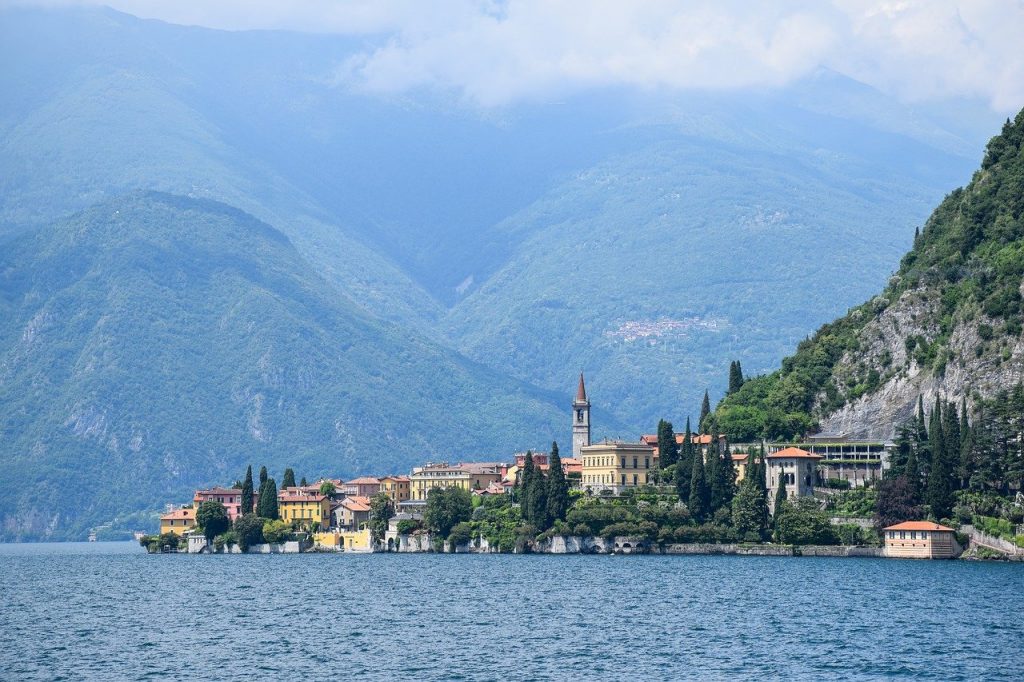 To have the best experiences and to figure out why Lake Como is so extremely beautiful, I would like to recommend visiting Bellagio. This smaller town is a must-see place at Lake Como with its famous cobbled stairway. If you want to witness a gorgeous mountain view while dining (affordable food at the same time), find out Trattoria Baita Belvedere.
Are you interested in spotting celebrities, or at least houses of celebrities?
Well! Lake Como is popular for many expensive celebrity villas and mansions. You can see George Clooney´s 18th Century gorgeous villa, located in Laglio, on Lake Como. Also, you can spot his neighbors like celebrity fashion designer Donatella Versace's villa.
If you have some time, visit Brunate, a small village on the mountain with great views over the lake. Walking along the lake is another must-do activity.
Dolomites
If there is any tourist destination in Italy that will be kept in the memories of travelers for a lifetime then it has to be the Dolomites.
It can be considered a paradise for adventure lovers, as this place has a lot to experience, and hiking is considered their most popular activity. The great part is even if you don't have an interest in any kind of outdoor adventure activities like climbing or trekking, you will get to enjoy some of the spectacular views here.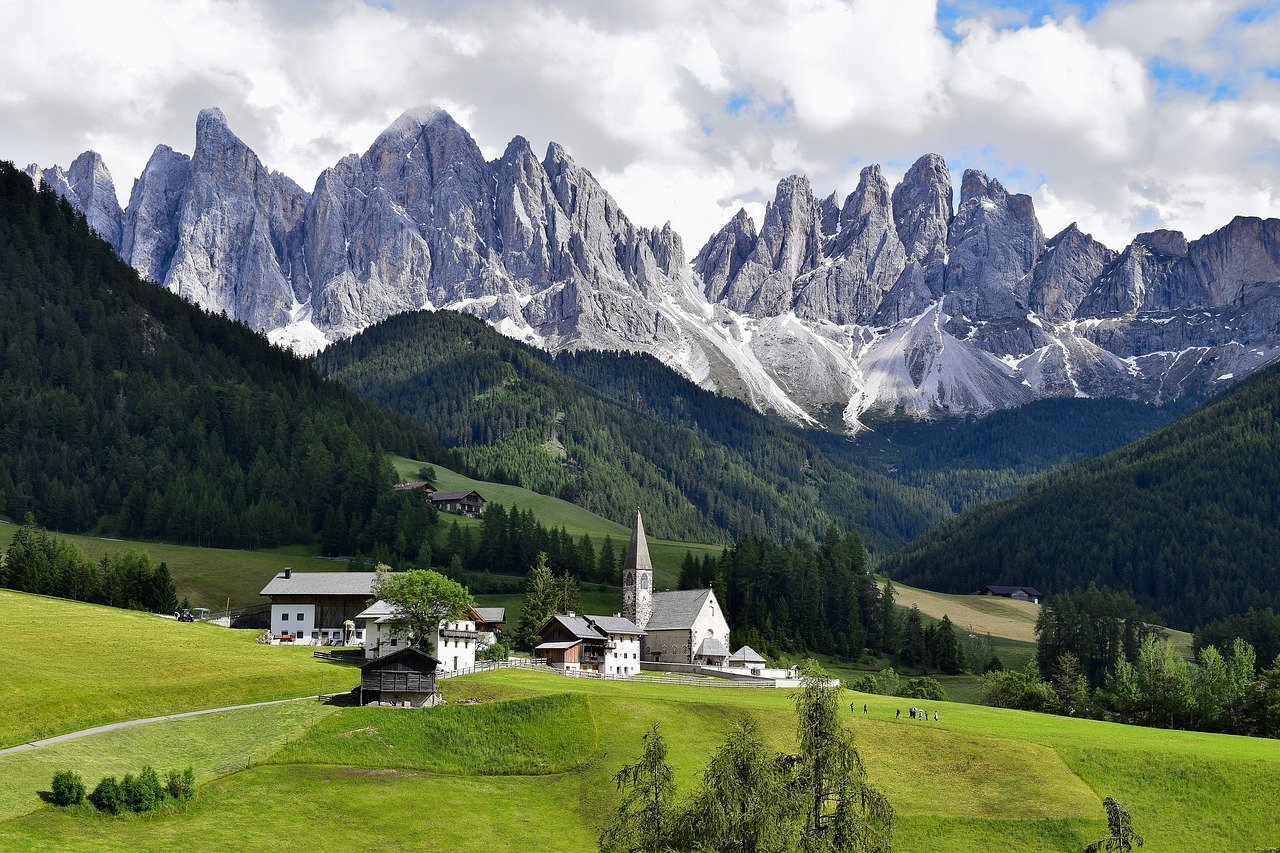 No wonder, it has become such a perfect location for couples who are traveling to Italy for a romantic vacation. Simply add this sightseeing location to your trip to Italy itinerary and you will definitely end up extending your trip to Italy for some more time.
Cagliari
Most of the time people who visit Italy limit themselves to the most popular destinations and barely research other places.
Those who make the effort of going all the way to Cagliari (located on Sardinia's southern shoreline, and considered a strategic port) find themselves in a beautiful city that hasn't been explored by a large number of tourists and where there is an amazing local feel because of the friendly and beautiful people.
Bastione San Remy is the perfect place to admire the sunset. It is the ideal place to see a slice of their rich past and enjoy great cityscape views.


Castello near Cagliari cathedral is a lovely and trendy neighborhood, full of colorful houses and tapered streets.
There is a gorgeous Roman amphitheatre (ruin from the Roman era) near Castello, where concerts are held occasionally in the summer months.
La Marina and Stampace are the liveliest areas of the center, as they are packed with restaurants and bars.
If you're a beach lover and looking for a beach vacation in Italy, then Sardinia beaches are an ideal place to bring your family and enjoy a range of stunning island scenery and friendly local hospitality.
Cagliari also has a few lovely beaches like Poetto beach which are within easy reach via public transportation from the city center (take bus PF or PQ from Piazza Matteotti to reach Poetto beach). Water sports are popular and you can hire canoes at the beach clubs.
Cagliari is a wonderful option for those who are looking for the best destinations for kids who enjoy outdoor activities on their holidays.
Read More: 10 Best Places To Visit In Italy (Guide + Map)
Italy boasts about its picturesque scenery, culinary delicacies, and exceptional architecture, especially in which are almost impossible to find anywhere else.
During your Italy trip may have realized that each day is considered the best time to visit Italy. Whatever your taste is in travel, you will be sure to satisfy your travel hunger in this amazing country.
If you are on a budget but still want to visit these unique places, you can keep the costs totally low by choosing to travel during spring or autumn. During this period hotel prices and airfare both are at their lowest.
In addition, you can consider choosing accommodation in hostel or guesthouses that offer affordable accommodations.
Read More: How Much Does It Cost To Travel Europe?
These are some of the many unique places to visit in Italy, and a small part of the country full of surprises and hidden gems ready to be discovered.
If you found this article useful, please let me know your thoughts in the comments below.