Are you a digital freelancer willing to experience a European lifestyle in 2023?
So why not think about getting a digital nomad visa Europe in 2023?
I recently discovered something amazing that I knew I wanted to share with you all. You are aware of how the pandemic altered everything and increased the popularity of remote employment, right?
Well, here's the thing: European nations are currently developing unique visas specifically for people like us who work remotely! How cool is that!!!
Basically, these visas are designed to let us work remotely while living in different European countries for extended periods. It's like a dream come true for adventurers who love traveling and working from anywhere!
What is Digital Nomad Visa in Europe
So, let me break it down for you. These digital nomad visas are bridging the gap between short-term tourist visas and long-term work permits.
They are designed to let remote workers, like you and me, live and work in Europe for extended periods, all while collaborating with our foreign employers or clients. How amazing is that?!
The Digital Nomad Visa Vs. The Tourist Visa
Before these visas, our remote work adventures often involved navigating tourist visas, which usually didn't allow us to work legally.
You know the Schengen zone restrictions that made 'visa runs' impossible in Europe? Remember those days of constantly renewing visas and worrying about 'visa runs'? Ugh, what a hassle! 
These digital nomad visas are a sweet workaround for that! With these awesome digital nomad visas, we can work remotely and stay longer in some of the most breathtaking places in Europe without any legal fuss. It's like the universe heard our prayers!
We can stay beyond the typical 90-day limit without any worries. I can already envision us living our best lives, savoring the beauty of Europe, and getting work done seamlessly. It's the perfect balance of work and play!
Digital Nomad Visa Requirements in Europe
Don't worry too much about the requirements. Each nation has its own set of laws and regulations governing visa requirements, but they all have common standards that decide whether or not someone is qualified to apply for a visa.
These requirements are:
• Candidates must be foreign nationals with clean criminal histories.
• Candidates must have signed contracts for remote work with companies or organisations that are registered and headquartered outside the country in which they are applying.
• Candidates must be able to use digital technologies to deliver their services remotely.
• To cover their residence, applicants must have proper health insurance.
• To fund their living expenses, applicants must earn at least the minimum monthly income set by the respective nation. This can vary from country to country.
Digital Nomad Visa Europe Countries
Estonia, Croatia, Italy, Greece, Germany, Czech Republic, Hungary, Iceland, Malta, Portugal, Spain, Norway, and Finland are a few of the nations that already have these fantastic visas.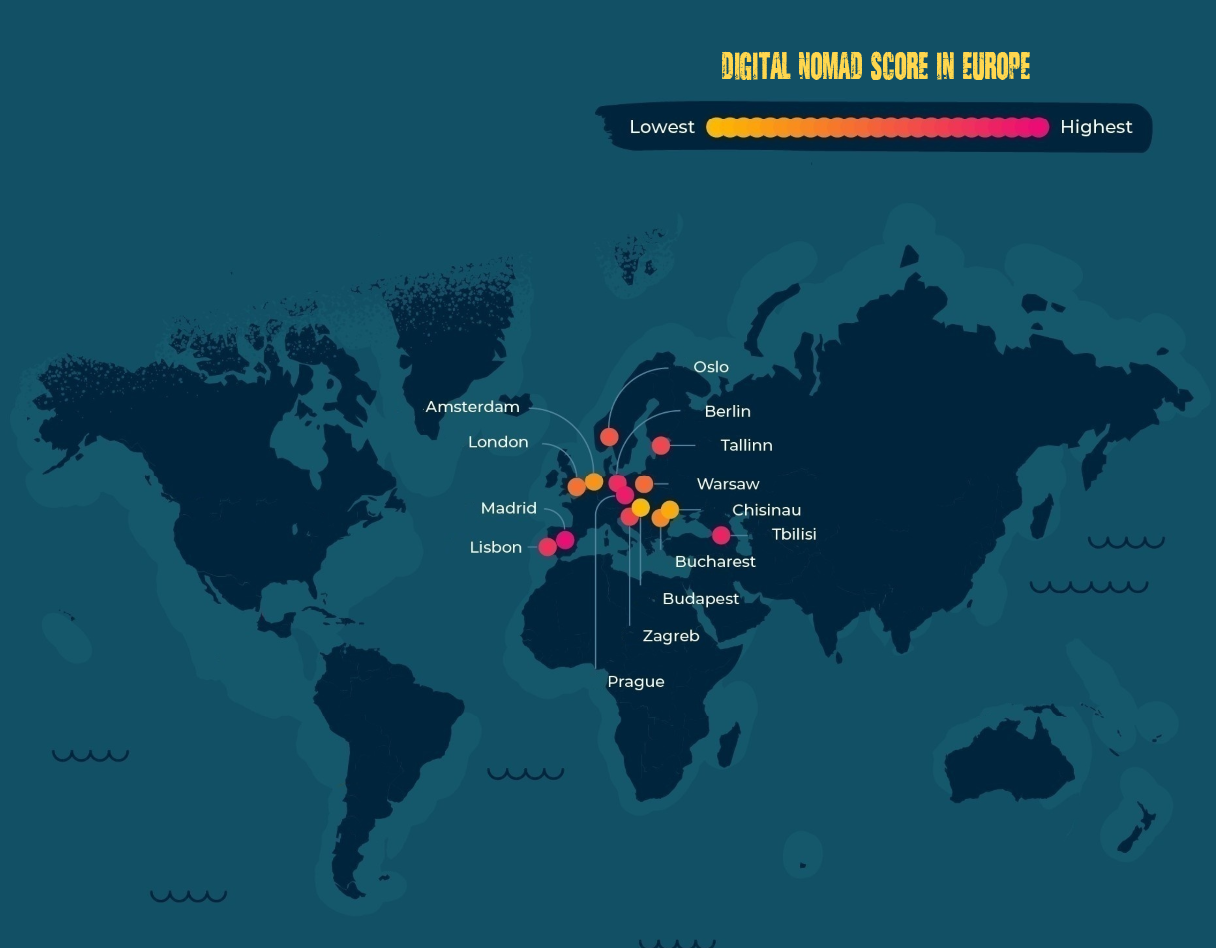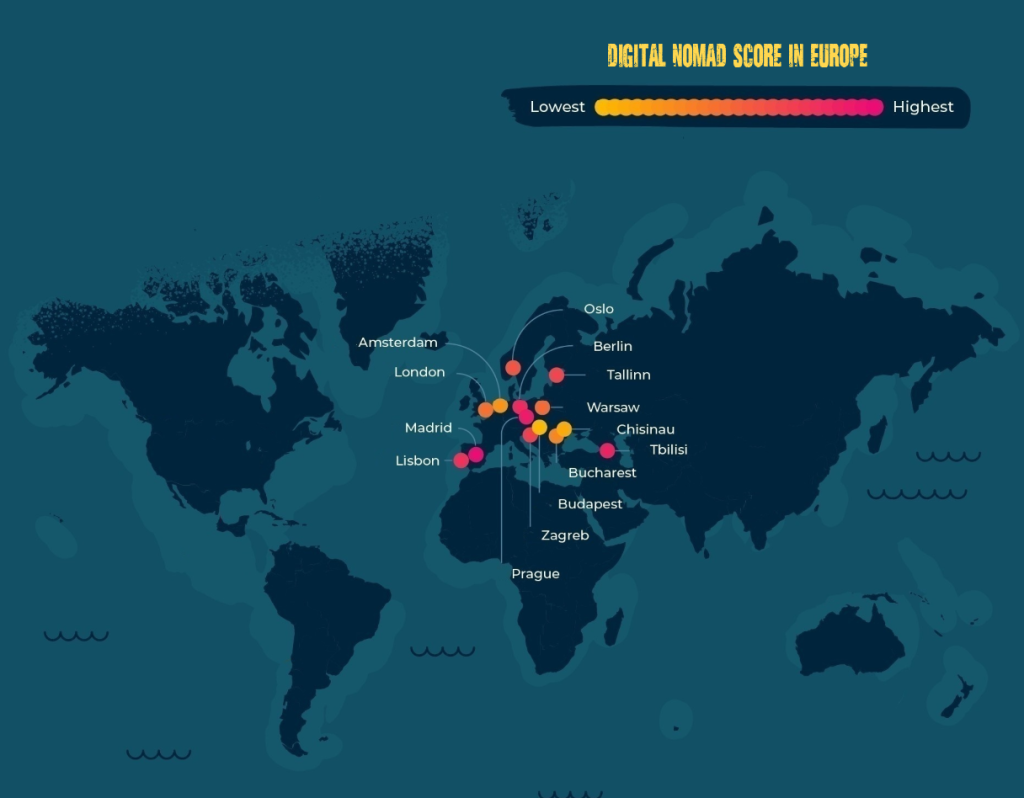 Each one has its own requirements, but it's nothing too crazy. We just need to show that we're over 18, have a certain level of income per month, and work remotely from anywhere in the world. Easy peasy, right?
The best part is that some of these visas can even lead to a more permanent situation if we decide to settle down in any of these amazing European countries. How amazing is that?!
I'm personally eyeing Hungary's digital nomad visa, and you should totally consider one too, as it can be considered the easiest digital nomad visa in Europe. According to SoloPress, Budapest is the third-cheapest capital city in the world for digital nomads. Here, €1,300 a month is a decent budget.
Imagine spending a year in Budapest, soaking in its digital-friendly atmosphere while working on your projects. Or how about Croatia with its beautiful coastline and tax exemptions? Ah, the possibilities are endless!
Like me, I know you enjoy the concept of relocating frequently for a job and leisure, therefore I couldn't help but tell you about this momentous development. Let's start planning our European adventure and take advantage of these digital nomad visas in 2023!
It's going to be an epic journey, and I can't wait to explore new cultures and make unforgettable memories with you by my side.
European Countries with Digital Nomad Visas Introducing Soon
There are two European countries that are soon to introduce their own digital nomad visa. They are:-
Italy – The digital nomad law was authorised and signed into law in Italy in March 2022, but it hasn't yet been put into effect and nothing is known about what it would include.
Montenegro – Although Montenegro's intentions for a visa for digital nomads were made public in December 2021, the programme has not yet begun. As of right now, the visa is anticipated to grant nomads permission to reside in Montenegro for a period of two years with the possibility of renewal for a further two years. Tax incentives for nomads with this visa have also been mentioned, however further information is still pending.
Conclusion
Alright, I won't keep you any longer. Check out the Digital Nomad Visa Calculator to find out which digital nomad visas in Europe you can apply for based on your earnings. I'm sure you'll find it as fascinating as I did!
Take care, my dear adventurer, and here's to new horizons, unforgettable experiences, and a lifetime of memories together!
Sending you all my love and excitement!
Frequently Asked Questions On Digital Nomad Visa in Europe
Which EU countries offer a Digital Nomad Visa?
These EU countries below offer digital nomad visas:
Croatia, Czech Republic, Portugal, Estonia, Greece, Cyprus, Hungary, Iceland, Romania, Latvia, Malta, The Netherlands, Germany, and Norway (Svalbard).
Which European country is best for digital nomads?
Estonia, Portugal, the Czech Republic, and Hungary are among the best European countries for digital nomads.
How hard is it to get a digital nomad visa?
If you work remotely and have the right amount of income, it's not hard to get a digital nomad visa. You may also need to get private health insurance and show proof of funds, having accommodation in the target country.
How much do you need to Earn on average to get a digital nomad visa?
On average, you need to earn somewhere between €2800-€3000 to get a digital nomad visa in Europe.
Do you have to pay taxes while you are on Digital Nomad Visa in Europe?
The general rule of thumb is that if you spend more than 183 days in a country, then you are legally a tax resident. This means you will owe local taxes. However, some countries like Greece for example, have enacted certain schemes for digital nomad visa holders that do not require them to pay local taxes.